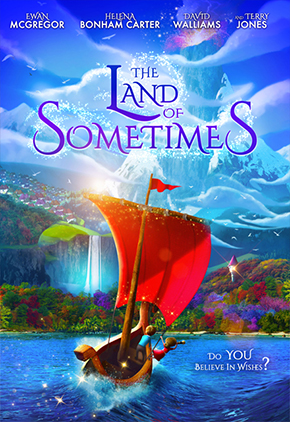 UPDATE ON THE FORTHCOMING FILM OF
THE LAND OF SOMETIMES
Here is a post written by our lovely script writer, Marty Casella, which says it all really.

"Here's some news I can finally share. For the past three years I have been working as a writer on a British animated musical film for family audiences called The Land of Sometimes. I am a member of our fantastic creative team which includes the insanely talented trio of Leon Joosen, Francesca Longrigg and Tony Nottage. Things came together in May and we are due to start production next month. The film is teamed up with Kaliesdescope film distribution and is expected to be released Christmas 2019."



HERE IS THE CAST LIST SO FAR;
The Wish Collector; Ewan McGregor
Little Twink; Helena Bonham Carter
The Guardian of the Electric Volcano; David Walliams
The Wish Watch; Terry Jones
Elise; Shirley Henderson
Mrs Blip; Ruby Turner
The Chameleon Catcher; Austin Howard
Mr Smaller than Smaller than Smaller , Small Thing; Gregory Gudgeon
The Frosty Fish; Brendan Murphy

[There are also some actors we can't yet mention, but they are amazing!]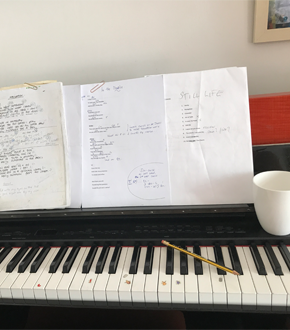 TRUE NOISE
A NEW RELEASE!
This is a shared album with two close friends and collaborators, james Watson and Ivor Guest. I have worked with James on pretty much every recording I've done ; he is a brilliant multi instrumentalist, and with Ivor's genius programming, [ he is MD to the fabulous Grace Jones] we all felt it right to release this album to celebrate our many collaborations!

We recorded most of the songs in an old converted warehouse off the Portobello Road, and the track 'Arrow' has always been a big favourite of mine.


We tried to mix our ambient work with good old fashioned song writing on this album, so some of the album is very atmospheric, and some a bit more punchy. I recorded the Aeroplanes vocal myself, singing it and recording alone late at night in a studio in a huge building used for injured soldiers in WW2… I felt sure I was surrounded by ghosts…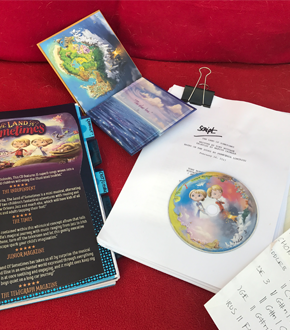 THE LAND OF SOMETIMES
This album was so much fun to record. It started with me sitting in a café in Highgate writing nonsense verse until 14 lyrics had emerged. Chicky Reeves and I then put them to music and started casting each song with a different voice actor/ singer. We had a blast working with fine voice actors like Austin Howard and Gregory Gudgeon and amazing singers like Ruby Turner and the musicians on the album are world class. Having been a singer it was great actually sitting in the control room working with the singers from the other side of the wall , although I did end up singing a couple of the tracks; 'Days are Colours' and 'Hush.'

I particularly loved working with the kids on their performances.

Once we released the album, when we became aware of how much children were taking it as their own and becoming attached to the characters, I spent a while developing the story and now it is so exciting that the project has morphed into what will become a full length feature film, featuring many of the fabulous original actors along with a bunch of A list stars!